Body Butter - Unscented
Regular price
Sale price
$52.00 USD
Unit price
per
Sale
Sold out
Ingredients

Shea Butter*+, Pomegranate Oil*, Squalane (Olive), Marula Oil*+, Jojoba Oil*+, Argan Oil*+, Vitamin E

*Certified Organic, +COSMOS Certified
Shelf Life & Product Care

Our products are 100% natural and made fresh. They should ideally be enjoyed within 6 months (which is more than enough time when used as directed!). The date crafted on the bottom of each product marks when it was made for you.
Handle the product with clean and dry hands to prevent any contamination. Secure the lid tightly after each use and keep the product in a cool and dry place away from direct sunlight.
If this is your first time applying the product, we recommend that you do an allergy test before use. Simply apply a small amount to your forearm, and wait 24 hours to see whether any sensitivity or irritation occurs.
Shipping

Please allow 1-3 business days for us to process and handcraft your order. A tracking number will be provided once the order is ready to ship. We offer free shipping to Canada and the United States*.

Canada: Orders usually take between 1-3 business days to arrive at their destination.

United States: Order usually take between 3-5 business days to arrive at their destination.

*Some exclusions apply to the United States. See our full Shipping Policy for more details.
Return policy

Returns are not accepted as each product is handcrafted fresh.

If you are unhappy with your purchase, please contact support@lvitsa.com and our customer support team will do their best to address any issues or concerns.
This body butter is great all year round – it aids in keeping your skin soft, moisturized, and provides a beautiful glow. This product is rich in Vitamins A, B, C, E, and K, which contain antioxidant properties that can work together to neutralize the effects of free radicals from the environment. Rub this butter between your hands and watch it naturally melt into oil! Although this is "unscented", t
he scent profile is naturally nutty from the unrefined shea butter.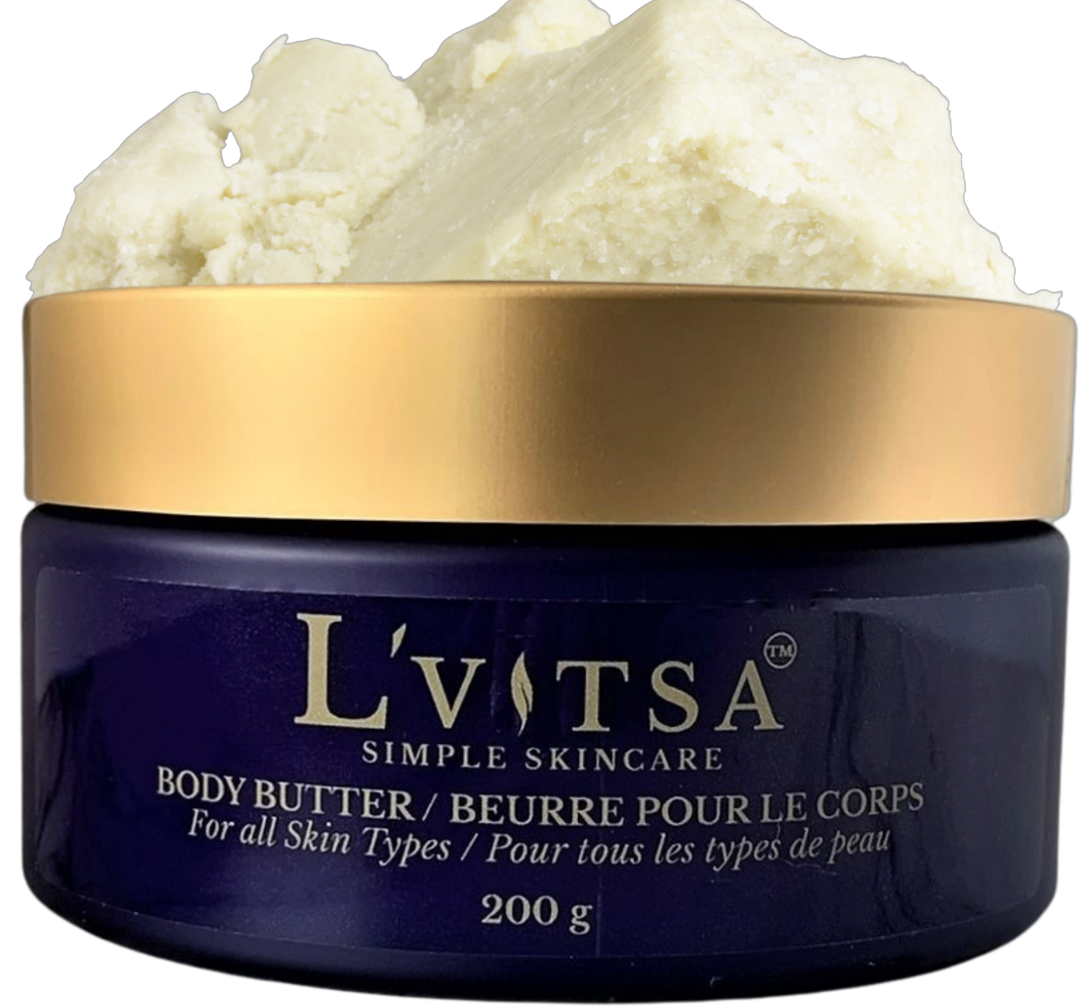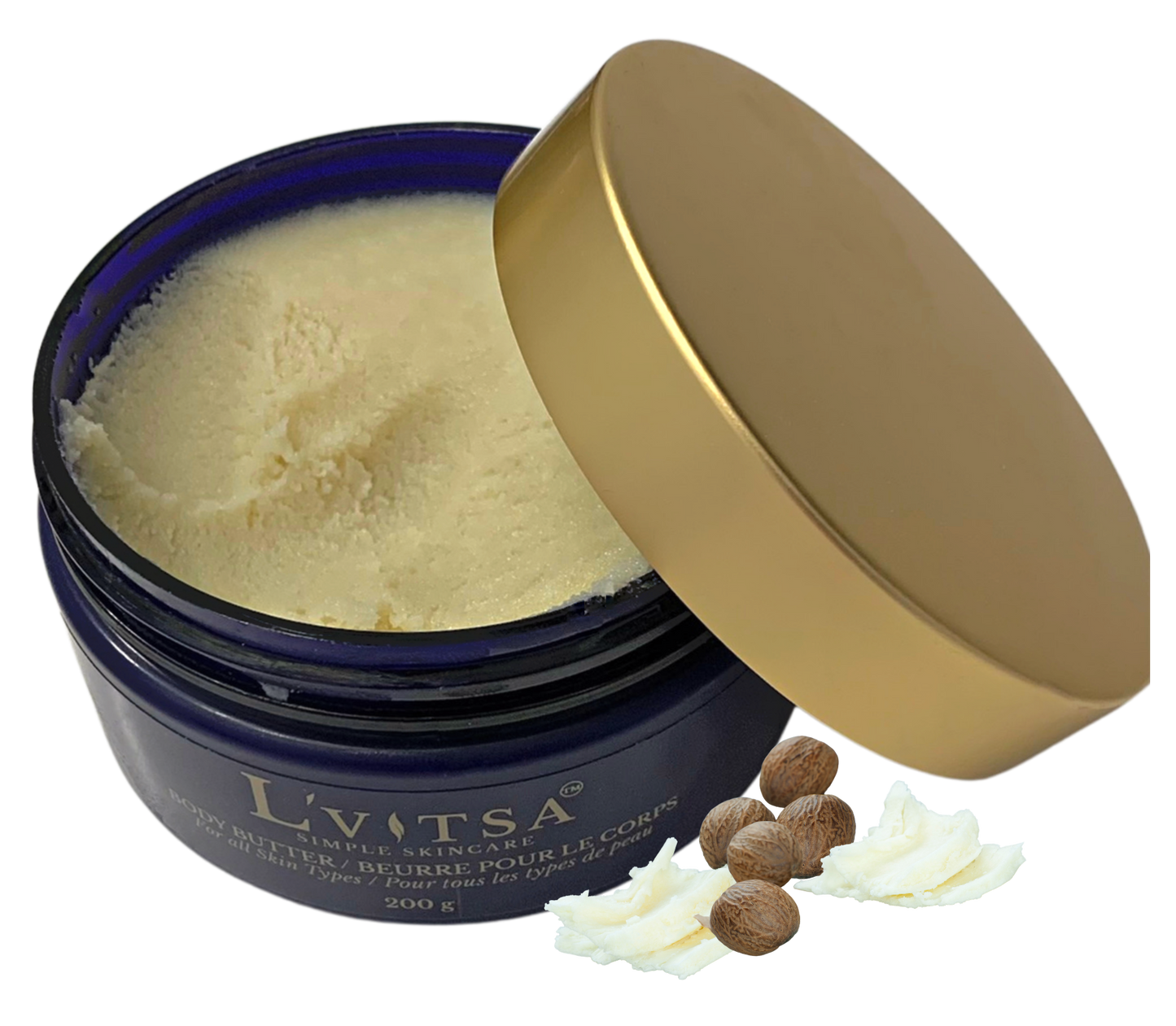 Creamy
I love the creamy texture of this body butter - feels great on my skin!
WOW!
Loving this body butter so far!! It has a great texture and scent. It has also really helped with my severely dry skin that I get around the cold months. I love how the body butter melts into an oil. Will definitely be re-ordering!!
Baby smooth skin
I just recently returned from a vacation, so I bought this along with the facial serum. It feels so amazing on my skin, it has kept my skin very hydrated , and therefore maintaining my tan. I just put it all over and massage it into my skin, and it smells heavenly. It has helped with My dry patches & peeling . Love it!
Soo buttery
The texture of this body butter is so lovely!! I love that it melts into an oil once I rub it in - I'm finding that this butter really absorbs nicely into my skin. It leaves my body shiny and nice and smooth. This butter has a nice natural nutty scent but I will be trying out the other scent options next!!
Like Butter!
Now I know why they call it body butter!
The incredible peace of mind I feel knowing this is well sourced, preservative free, natural cream is only matched by the smoothing and hydrating texture of this body butter. I put it on at night and wake up with hydration that lasts all day which is amazing in winter months. I can see myself using this in the summer a lot to get that glowy texture. A little goes a long way for me! I'm also a huge fan of the natural scent which gives spa vibes especially if you apply after a hot, relaxing bath.